Financial Planning
What Is It?
Everyone has a plan, either by design or by default. We have a comprehensive financial planning process designed to guide you toward your personal or business financial success. We focus on your investments, risk management, protection strategies, tax planning, wealth transfer and more. Your true advantage comes from applying our findings to match the needs and personalities of you, your family and/or business team. With our unique planning method, you gain the insight needed to be sure you are on the right track.
---
Wealth Accumulation
The goal of accumulation planning is to build wealth and create the liquidity needed to meet the desired financial goals.
Accumulation Phase
We help our clients accumulate wealth for many reasons...
Financial independence
College education savings
Personal, business, and investment opportunities
Protect family and income
We help our clients accumulate wealth for many reasons
Preservation Phase
We help our clients preserve wealth by...
Proper asset allocation
Creating liquidity
Managing cash flow
Having proper insurance in place
Difficulties We Face:
Taxes – Managing taxes now and in the future
Investment Risk – Loss of principle
Inflation – Loss of purchasing power
Liquidity – Having money available without penalties
Asset Protection – Insuring you and your assets
Time – Not saving soon enough to attain goals
Debt – Paying too much interest
Procrastination – Delaying the implementation of a financial plan
---
Wealth Distribution
Millions of Baby Boomers are at or nearing retirement and face the challenge of securing an income stream that lasts their entire lifetime. The biggest fear for these clients is the fear of running out of money!
Distribution Phase
We help our clients plan for distributions for…
Essential expenses such as food, clothing, healthcare, housing, etc.
Discretionary expenses
Extra-ordinary expenses
Emergency expenses
Estate Transfer Phase
We help our clients transfer wealth by…
Ensuring the right assets to the right people at the right time
making sure health care decisions and expenses will be managed properly
Charitable or special needs interests
implementing a formalized Business Succession Plan
Difficulties We Face:
Income – ensuring you don't run out of money
Taxes – managing taxes
Investment risk – loss of portfolio value
Inflation – Loss of purchasing power
Health Care – Medical and long term care costs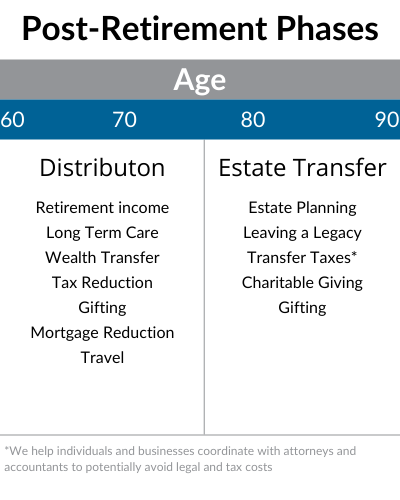 ---
Investment Management
Our wealth management process involves a thorough, precise and disciplined approach to investing. Your investment plan is based on your needs and customized to your goals and risk tolerance.
Process
Customization – Our approach is to design each portfolio to meet the needs and goals of our clients. We plan a comprehensive investment strategy for your portfolio that takes into account our analysis of the current market and global economic conditions. It's important to us that you are comfortable with the risk/return level of your portfolio.
Diversification – We diversify your portfolio globally as well as by investment style, industry and asset class to help you minimize risk while maximizing the opportunity for growth.
Mutual Funds
Annuities
Stocks, Bonds, ETF's
Alternative Investments
1031 Exchanges
---
Risk Management
Life Insurance
Life insurance is used to protect families, estates and businesses in case of a premature death and the buildup of cash can be used an accumulation ad distribution strategy. We investigate available options in order to utilize the tax efficiencies for goal planning, as well as providing the much needed death benefit for protection.
Types of Life Insurance include Term Insurance, Variable Life, Universal Life, Whole Life, Equity Indexed Life and Survivor Life.
Disability Income Protection
David White & Associates provides comprehensive income replacement for individuals and business owners. Some pertinent facts to consider:
One in four of today's 20-year-olds can expect to be out of work for at least a year because of a disabling condition before they reach the normal retirement age.
Each year around 5% of working Americans will experience a short-term disability (six months or less) due to illness, injury, or pregnancy. Almost all of these are non-occupational in origin.
Types of Disability Income Insurance plans include Personal Income Protection, Business Overhead Expense Protection and Disability Buy-Out Coverage.
Source: Disabilitycanhappen.org 2021
Long Term Care Insurance
Provides You with Dignity, Freedom, Choice, Independence and Control
As our population ages, the importance of Long Term Care becomes increasingly apparent. Long Term Care refers to Activities of Daily Living (ADL's) including; bathing, dressing, eating, continence, toileting and transferring.
David White & Associates assists in determining how much and what type of Long Term Care insurance one should own. Types of long-term care insurance include traditional, hybrid, and asset-based policies. We have programs that will help offset the monthly cost of nursing care and in-home health care.
Click here to see average costs in your area
---
Financial Calculators
---
Link Disclosure: The information being provided is strictly as a courtesy. When you link to any of the websites provided here, you are leaving this website. We make no representation as to the completeness or accuracy of information provided at these websites. Nor is the company liable for any direct or indirect technical or system issues or any consequences arising out of your access to or your use of third-party technologies, websites, information and programs made available through this website. When you access one of these websites, you are leaving our website and assume total responsibility and risk for your use of the websites you are linking to.